March 6
Emergency pothole repairs this afternoon at I-70 and Tower



DENVER — The Colorado Department of Transportation (CDOT) will perform emergency pothole repairs on eastbound I-70 just past the Tower Road on-ramp this afternoon around 12:30 p.m. A pothole has reemerged in this area and for the safety of the traveling public this work must be performed immediately. Traffic flow will continue with traffic control on site. Motorists traveling in this area should expect heavy delays while work is being done. Motorists are encouraged to find an alternate route. Drivers are reminded to Go Slow in The Cone Zone and use caution when traveling in the construction area.

To receive real-time updates about road conditions in your area, visit www.coloradodot.info and click on the green cell phone icon in the upper right hand corner of the page. Information about weekly lane closures will be available at www.coloradodot.info/travel/scheduled-lane-closures.html. Live road conditions are available atwww.cotrip.org, downloading the CDOT Mobile app or by calling 511 from anywhere in the state. Updates are also available via Twitter @coloradodot and be sure to "Like" our Facebook page at www.facebook.com/coloradodot.

Gardner introduces natural gas legislation amid Ukraine crisis
Bill would meet regional demand, boost local economy
WASHINGTON, D.C.– On March 6 Rep. Cory Gardner (CO-4) introduced legislation to speed up the approval process for Liquid Natural Gas (LNG) exports. H.R. 6, The Domestic Prosperity and Global Freedom Act, would facilitate the accelerated approval of LNG export applications that are currently under review by the Department of Energy (DOE).

This legislation comes amid aggressive Russian expansion in the wake of political turmoil in Ukraine. As the world's largest exporter of natural gas, Russia has significant control of the resource that European nations depend on to heat their homes and power their industries. Much of Russia's natural gas supply flows through pipelines across Ukraine.

"President Putin and the Russian regime are using their dominance of the European natural gas market to flex their muscles and expand their influence," said Gardner. "European nations are clamoring for a resource that is abundant in Colorado, but current law restricts our ability to sell it to them. This bill allows America to meet the needs of our allies, while creating economic opportunity and good jobs here in Colorado."

Gardner's bill would facilitate the speedy approval of all applications currently pending with the DOE. Similar legislation has been proposed in the Senate, though observers note that the Senate bill could require companies with existing applications to have to re-file, causing further delays and filing burdens.

Colorado has seen an energy boom in recent years, due in part to natural gas extracted through hydraulic fracturing. The resulting economic growth has created thousands of jobs in Colorado's energy sector and contributed millions of dollars to Colorado's economy.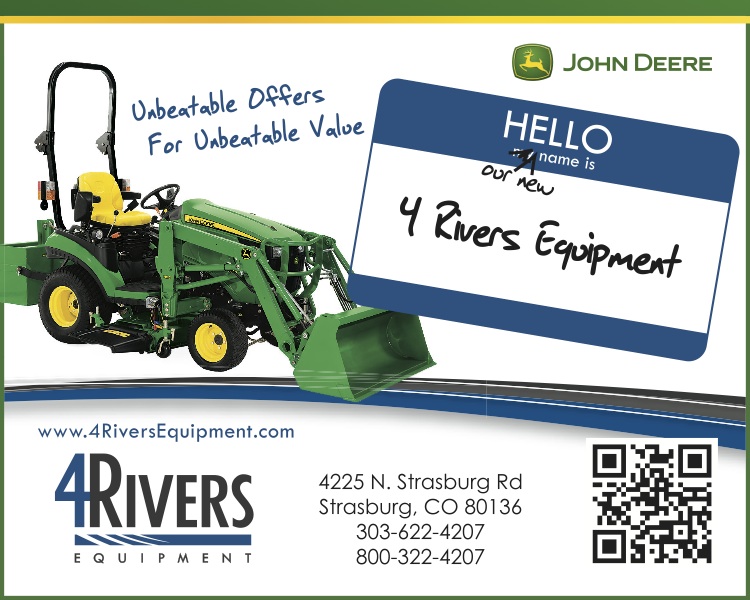 Colorado signs on to Rio Grande cuthroat trout conservation agreement

DURANGO, Colo. — An updated conservation agreement and strategy plan to protect the Rio Grande cutthroat trout was recently signed by the states of Colorado and New Mexico, three Native American tribes and several federal agencies.

The agencies started working on range-wide protection plans for the species in 2003. This is a continuation of the initial agreement, but also assures that the agencies will work cooperatively to maintain the viability of this special species of trout. The agreement provides overall guidance to each agency and sets a conservation strategy that will be used in Colorado and New Mexico where significant populations of the fish exist.

"This is a voluntary agreement, but all the parties are dedicated to working on important Rio Grande cutthroat trout issues," said John Alves, southwest region senior aquatic biologist for Colorado Parks and Wildlife.

The agencies that signed the agreement are: Colorado Parks and Wildlife, the New Mexico Department of Game and Fish, the U.S. Forest Service, the U.S. Fish and Wildlife Service, the BLM, the National Park Service, the Jicarilla-Apache Nation, the Mescalero-Apache Nation, and the Taos Pueblo tribe. The effort is also being supported by Colorado Trout Unlimited and the New Mexico Council of Trout Unlimited.

As stated in the agreement, the goal of the new 10-year plan is to "assure long-term viability of Rio Grande cutthroat trout throughout its historic range by minimizing or removing threats to the species and promoting conservation." The agencies have completed numerous conservations projects for the species throughout Colorado and New Mexico. To read about some of the projects, go to: http://cpw.state.co.us/Research/Aquatic/CutthroatTrout/Pages/CutthroatTrout.aspx.

The trout has been a candidate for listing under the federal Endangered Species Act since 2008. A decision by the U.S. Fish and Wildlife Service on whether the species will be listed is scheduled for September.

The Rio Grande cutthroat is classified as a species of "greatest conservation need" by New Mexico, and as a "species of special concern" in Colorado. The agencies are working cooperatively to protect the populations to keep the species healthy. The cooperative effort might also provide the advantage of keeping the fish off of the federal endangered species list.

The fish is found primarily in high elevation streams and lakes of the Rio Grande, the Canadian River and the Pecos River in Colorado and New Mexico. It now only occupies just 12 percent of its historic habitat in approximately 800 miles of streams. Biologists estimate that 127 conservation populations now exist in the two states, and 57 of those populations are considered to be secure.

The historic range of Rio Grande cutthroat trout has been reduced over the last 150 years due to many changes on the landscape, including: drought, water infrastructure, habitat changes, hydraulic changes, hybridization with rainbow trout and other species of cutthroat trout, and competition with brown trout and brook trout. As a result of these changes, Rio Grande cutthroat trout populations are restricted primarily to headwater streams.

"This agreement provides a detailed road map of the ways local, state, federal and tribal agencies will work together to continue to conserve this trout," said Kirk Patten, assistant chief of fisheries for the New Mexico Department of Game and Fish. "The Rio Grande cutthroat trout is unique. It is found only in the southwest and has the distinction of being the southernmost distribution of any form of cutthroat trout."

For more than 20 years, agency biologists have been searching for Rio Grande cutthroat populations, studying habitat and restoring the species to streams. That work and more will continue under the conservation agreement.

Some of the work that the agencies will conduct includes: maintenance of Rio Grande cutthroat brood stock; stream surveys and habitat improvement; construction of barriers to keep non-native trout out of conservation waters; removal of non-native fish and restocking with this species; testing for disease; conducting genetic analysis; fencing sensitive riparian areas; and on-going monitoring of populations.

The agencies will meet annually to discuss projects and progress, and to plan conservation work. A full range-wide species assessment will be conducted every five years.

"Rio Grande cutthroat trout are facing many issues, including habitat loss, competition from the introduction of non-native trout, drought, fire and other changes," Alves said. "A major, coordinated effort like this one is what's needed to maintain this important species."